Creating pulse with sounds...
"

Chris is one of my go-to drummers for so many of the recording projects and albums that come my way. Chris has a keen sense of what will work best for each song that he plays on. He comes with a great feel and pocket for a multitude of genres and is not afraid to experiment with different textures and layers of rhythms that together create something unique and memorable. In addition, every time he shows up for a session he brings new sounds and instruments that offer a continually expanding sonic palette from which to choose. Chris comes incredibly well prepared and I know that whenever we'll be working together in a recording session or live performance it's gonna be a great day of creativity and camaraderie."
— Ben Wisch (2x Grammy Award winning producer)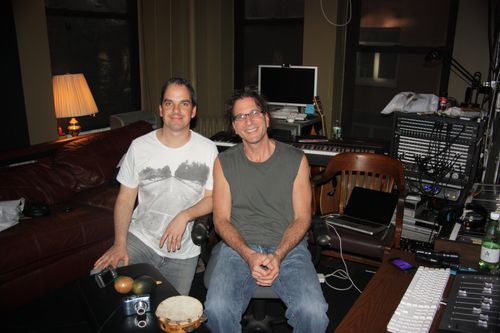 Drummer Chris Marshak has carved a niche out for himself by crafting a sound, feel and vibe that is sought after by some of the most respected singer-songwriter/artists in the business. 
Chris creates pulse with sounds.  His unique style and approach to making music is based on the fundamental idea that "sounds and parts matter". 
What are you playing and what are you playing it with?   Sometimes Chris uses drums, sticks and cymbals. However, often times his approach is non conventional using an assortment of hybrid brushes, mallets, bass drum beaters, muted toms, vintage drums, calf-skin heads, wood boxes with shakers and things that rattle attached to his feet, legs and arms. 
"I think the artists, producers and musicians that hire me do so because they know that I will make a unique contribution to their project in terms of sound, feel and the parts that I create.  The song matters to me.  It's more important than anything.  My job is to play something that adds to the song.  It's all about musical choices.  Sometimes the most effective contribution you can make to the music is choosing NOT to play."
Chris Marshak
Some of the artists that Chris has recorded and/or performed with...
Steve Winwood 
Marc Cohn 
Ricardo Arjona 
Jill Sobule 
Amy Helm 
James Maddock 
Jeffrey Gaines 
Willy Porter 
Jonah Smith
Todd Sheaffer  
David Wilcox
Sam Baker 
Kenny White 
Freedy Johnston 
G Love 
Liz Longley 
Donovan Woods 
Cheryl  Wheeler 
Lucy Kaplansky 
Duke Levine 
Cassandra House 
Henry Butler 
Martyn Joseph 
Mike Delguidice 
Andy Falco 
Amy Correia 
Billy J. Kramer 
Miles To Dayton 
Jeff Golub 
Jennifer Kimball 
Catie Curtis 
Toby Lightman 
KJ Denhert 
Brian Dunne 
Bakithi Kumalo 
Eugene Ruffolo 
Phoebe Hunt 
Matt Marshak 
Robinson Treacher 
Brad Cole 
Peter Calo 
Alex Bugnon 
Crys Matthews 
Andrew Fortier 
Peter White 
The Tin Man 
Bob Malone 
Jonny Blu 
Lisa Matassa 
Joanna Mosca 
The Levins 
Greg Greenway 
Pat Wictor 
Bill Scorzari 
Four 80 East 
Jeff Kashiwa 
Carl Burnett 
Mary Gatchell 
The Twangtown Paramours 
Robert Poe 
David Lockwood 
Dave Murphy 
Kat Quinn 
Mark Newman 
Dave Diamond 
Robert Bruey 
Kerri Powers 
Erica Leigh 
Frank Persico 
JJ Sanseverino 
Marcus Anderson 
Will Donato 
Last Charge of The Light Horse 
Walter Finley 
Shilts 
Joe Lostrito 
Jenai Huff 
Steve Kunzman 
Andy Aledort 
April Martin 
Nick Russell 
Marci Geller 
Bobby Nathan 
Felix Cabrera 
Pat Cisarano 
Jay Hitt 
Jack's Waterfall 
Brian Unger 
Lucy Bonilla